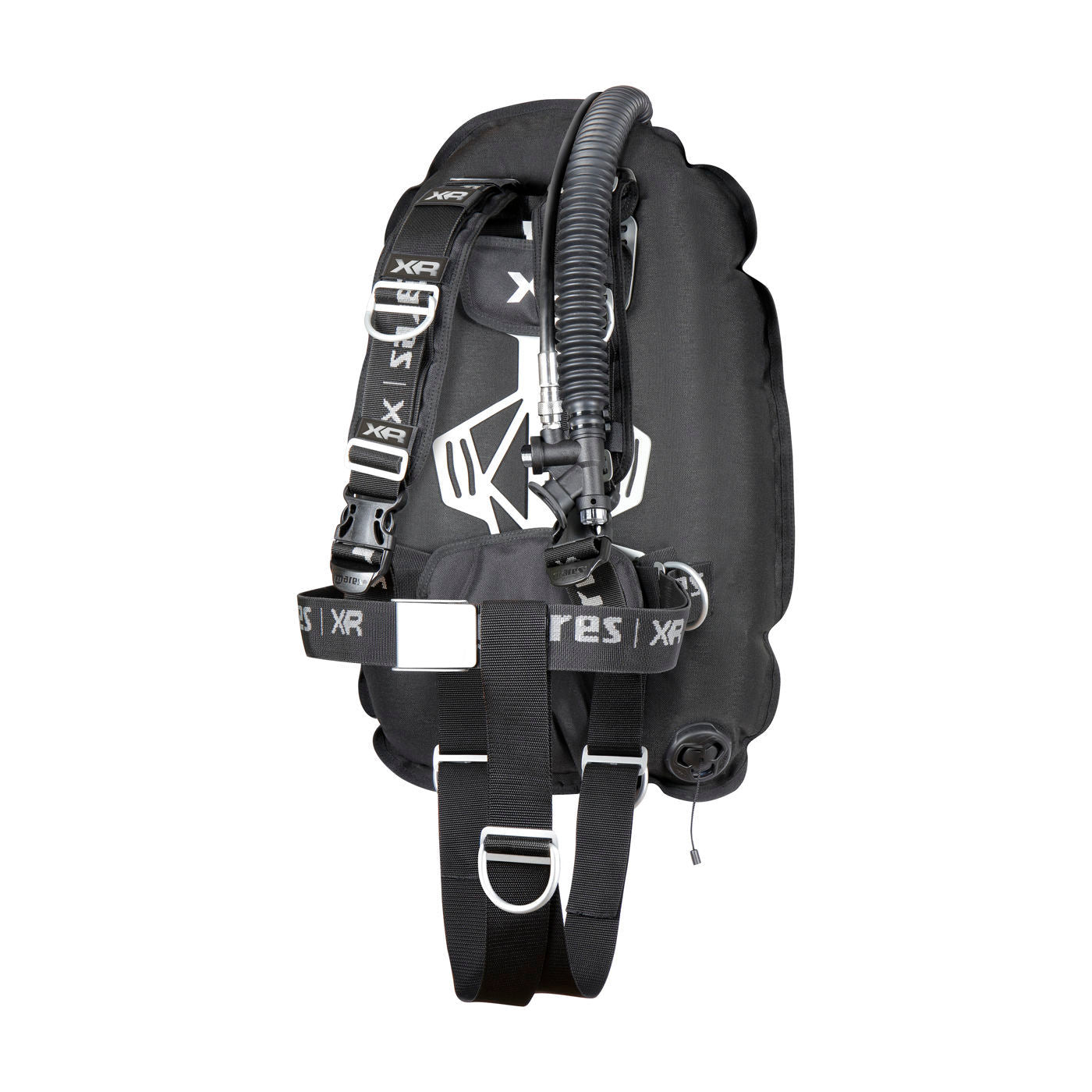 XR-Rec Trim Single Backmount Set
XR-Rec Trim Single Backmount Set
The new XR-Rec Trim single backmount set will take your dive to the next level.
The XR-Rec Trim Single Backmount Set offers perfect trim adjustment, helping the Extended Range diver find the perfect trim required for technical diving.
Divers can now easily adjust their set to create a custom fit to perfect their buoyancy in minutes.
The redesigned Skeleton design, aluminium back plate reduces excess weight, makingthis unit ideal for overseas dive travel.
Thats not all-  volume has been reduced by 40% compared to the previous version, contributing to improved stability and trim.
The new backplate offers two different positions for the waist strap according to preference. The new design also stops the straps from sliding without the need for additional trigliders.
To improve comfort when diving, Mares has included a soft back panel, padding in the lower back area and removable shoulder padding. Attached to the tank adapter are two tank straps with stainless steel screws, make adjusting the tank adapter safe and easy.
On the waist strap are two aluminium D-rings for stage tanks to be attached. The stainless steel belt buckle has a silver ceramic coating, making it extremely durable.
The shoulder straps are now independent of the waist belt, to make customising the XR-Rec Trim quick and easy.
The main features of the XR-Rec Trim Single Backmount Set are:
17 litre, 1000D Cordura, single backmount bladder 
The lower part of the bladder is longer compared to traditional bladders for greater buoyancy in the lower back area
Ergonomic overpressure valve placement facilitates use in all diving positions
Quick waist strap adjustment - a quick and easy solution for achieving the ideal trim
Buckles on both shoulder straps
Independent shoulder and waist straps for quick, easy adjustment
Padded shoulder straps for extra comfort
Adjustable crotch strap with 2 back plate attachments for improved comfort and stability
Power inflator with metal buttons
3 mm aluminium back plate with 'skeleton' design 
3 mm aluminium single tank adapter 
6 mm aluminium D-rings 
2 tank straps 
One size fits all
The XR-Rec Trim Single Backmount Set is Ultra lightweight, weighing only 2.8kg, making it perfect for travelling to those fantastic and sometimes remote, dive locations.

Check out the new, limited edition XR-Rec Trim Single Backmount Set
Awesome Service
Our professional staff are ready to assist with your enquiries
No Hassle Returns
Return your item within seven days for a full refund
Secure Checkout
Guaranteed safe checkout for your purchases