About Pro Dive Central Coast
Pro Dive Central Coast is situated in a prime location, nestled between the M1 freeway and some of the most exceptional diving spots on the Central Coast.
This location is conveniently situated within an hour's drive from Sydney and Newcastle, making it an ideal destination for those travelling from both areas. If you're looking for an exhilarating drift dive, Swansea Bridge is just a short drive away, along with other sites on the Central Coast.
Pro Dive Central Coast is located on Wyong Road in Killarney Vale, making it a perfect stop for those headed to or from Sydney, the Central Coast, or Newcastle/Nelson Bay. The store caters to all diving needs in the Central Coast Region, offering diving lessons, air fills, equipment service, and the option to purchase equipment both online and in-store.
Our team of experts offers reliable guidance on scuba diving, snorkelling, freediving, and spearfishing to ensure your safety and enjoyment and maintains a vast array of brands instore and online.
Pro Dive offers charter dives to the "ex-HMAS Adelaide" from the Terrigal boat ramp. They are a Diamond Instructor Training Centre for SSI and offer a variety of specialty dive programs. The father and son team of Bob and Tony have been  committed to quality and customer care since 1986. Join Pro Dive and witness the beauty of the NSW coastline.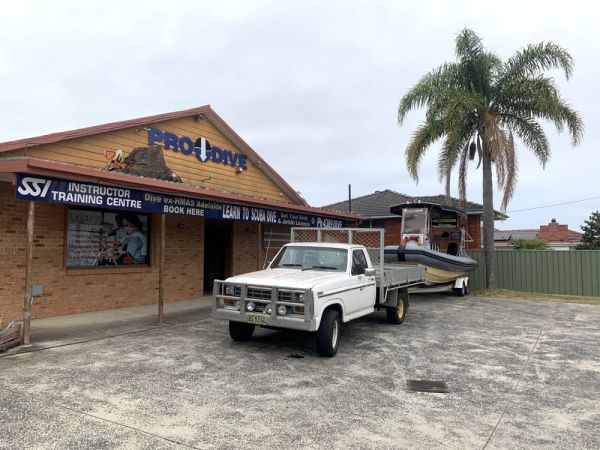 Discover an abundance of fantastic shore dives in the Central Coast area with Pro Dive. We offer access to over 400 dive sites from the Swansea Channel to Terrigal Haven all conveniently located right at our doorstep, including some amazing wreck and reef dive locations.
Pro Dive Central Coast operates charter vessels, regularly diving the local reefs and wrecks, from three different boat ramps. With most dive sites only minutes from a boat ramp, you can be assured of an enjoyable experience, visiting our underwater playground.
Offering weekly escorted shore dives and regular night dives, monthly club events and social meetings.
The History Of Our Store
Bob and Tina founded a dive shop on the NSW Central Coast with the aim of providing diving opportunities to the community and addressing an unmet market need.
Being a member of a local dive club for many years, fulfilling many roles in the club as Safety officer, vice President, Editor and Boat maintenance crew, along with boat driver and Dive convenor, meant they already had a feel, for what divers desired and knew they had to take a stand and give divers what they really wanted!
In September of 1987, Tina and Bob established their own dive centre called "Central Coast Divers" in Long Jetty. Although it was a while back, they still have very distinct recollections of that time. Bob reminisces, "I can still recall our initial sale!"
During their early infancy, Tina and Bob managed to operate a small storefront that was no bigger than 4m x 12m. Despite its limited space, they were able to accommodate a Lecture Room, Showroom, and Workshop, as well as a small office area. Their ability to manage such a small space was impressive, and both Tina and Bob took great pride in their store.
Despite facing various challenges, they successfully balanced their business and family life while raising their two young sons, Tony (1-year-old) and Ben (almost 3 years old). Their routine involved diving, providing lectures, filling tanks, and maintaining dive equipment. Additionally, they planned and arranged dive trips to different coastal locations every four weeks.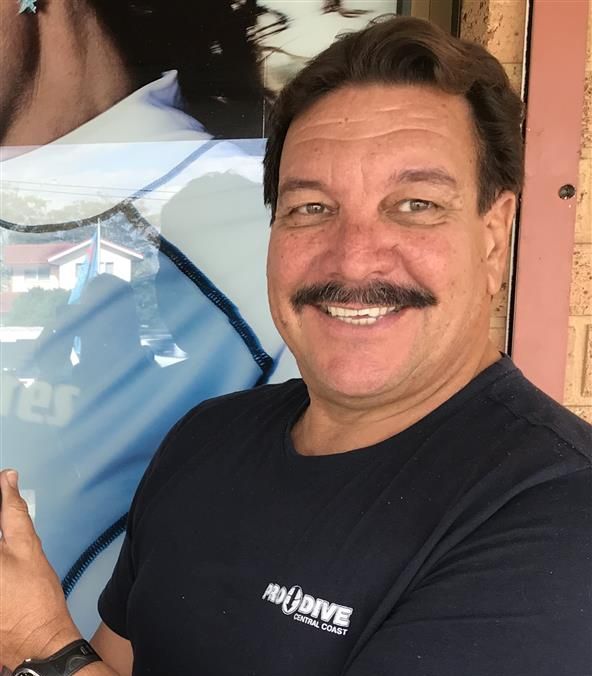 The Pro Dive Connection
Tina and Bob's expertise in their business prompted them to explore the possibility of expanding. When Pro Dive International suggested a franchise opportunity, they quickly recognized the benefits of having support for their growth and agreed to move forward.
In July 1990, they established Pro Dive Central Coast, which became affiliated with a well-established organization that has been running since 1969. Initially, the primary objective was to offer top-notch diving training and guarantee customer contentment, with the belief that financial gains would ensue.
Nonetheless, convincing the residents of the Central Coast to participate in leisure diving proved challenging despite the region's renown as one of Australia's finest diving destinations, courtesy of its scenic allure and diversity. Rather than resorting to aggressive sales tactics or overwhelming people with advertisements, they opted to take a more direct approach by offering diving experiences.
This simple strategy enabled them to build trust and earn the loyalty of the local diving community, leading to not only financial prosperity, but also ethical business practices and lasting friendships. As a result, their business motto became "Let's Go Diving!"
Pro Dive Central Coast has grown significantly since its humble beginnings in Long Jetty. A key factor in their success is their unwavering commitment to providing exceptional customer service and dedication to quality.
Their hard work and early accomplishments led to the establishment of the first PADI "Training facility" on the NSW Central Coast. After nearly two decades at their previous location in The Entrance, they moved to larger premises and established the first PADI Five Star Instructor Development facility on the Central Coast. These achievements have allowed them to continue expanding their business.
Taking stock of all the available options for growth and continuity they decided to leave The Entrance township and relocate to their present location at Killarney Vale, in 2007.
Our establishment offers a spacious showroom, lecture room, lounge area, guest lodge, and garden. We have secure parking, gear washing, and storing areas. Our workshop has modern SCUBA gear servicing, tank testing, air purity testing, and fill stations. We also have an exclusive indoor heated training pool. As a 5-star diver training center, we strive to maintain our reputation for excellent service.
This commitment has enabled Pro Dive Central Coast to maintain its status as, the premier Dive Centre at the premier dive location, on the East coast of New South Wales, Australia.