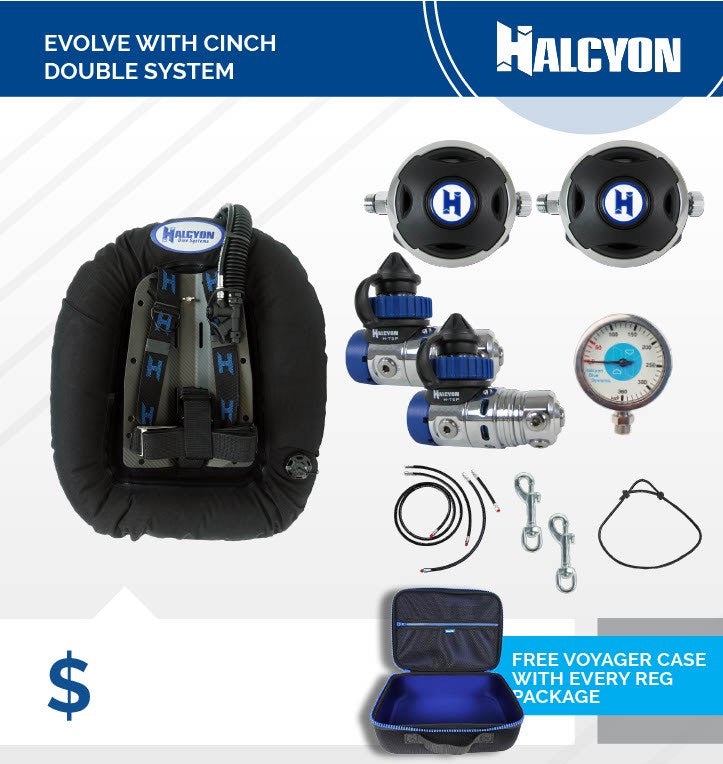 Halcyon Evolve Package
Evolve with Cinch Double system
The Halcyon Evolve™ maintains a novel, industry first-design. This unique circular wing provides unprecedented control, allowing divers to easily fine tune their buoyancy, regardless of diving position.
Individuals diving in all environments will appreciate the ease of adjustment and the streamlined, cylinder-hugging design of the Evolve™.

Halcyons' H-75P first stage - Offers an air balanced flow-through piston delivers an optimal amount of air to the second stage, remaining unaffected by changes in tank pressure. Lightweight and responsive components create prompt adjustments to breathing demands in all conditions, temperatures, or tank pressures.
Halcyon's Halo second stage - Offers steadfast reliability and impeccable performance. Two methods of breathing adjustment make it the top choice for demanding Halcyon divers.
Cylinders not included
Awesome Service
Our professional staff are ready to assist with your enquiries
No Hassle Returns
Return your item within seven days for a full refund
Secure Checkout
Guaranteed safe checkout for your purchases