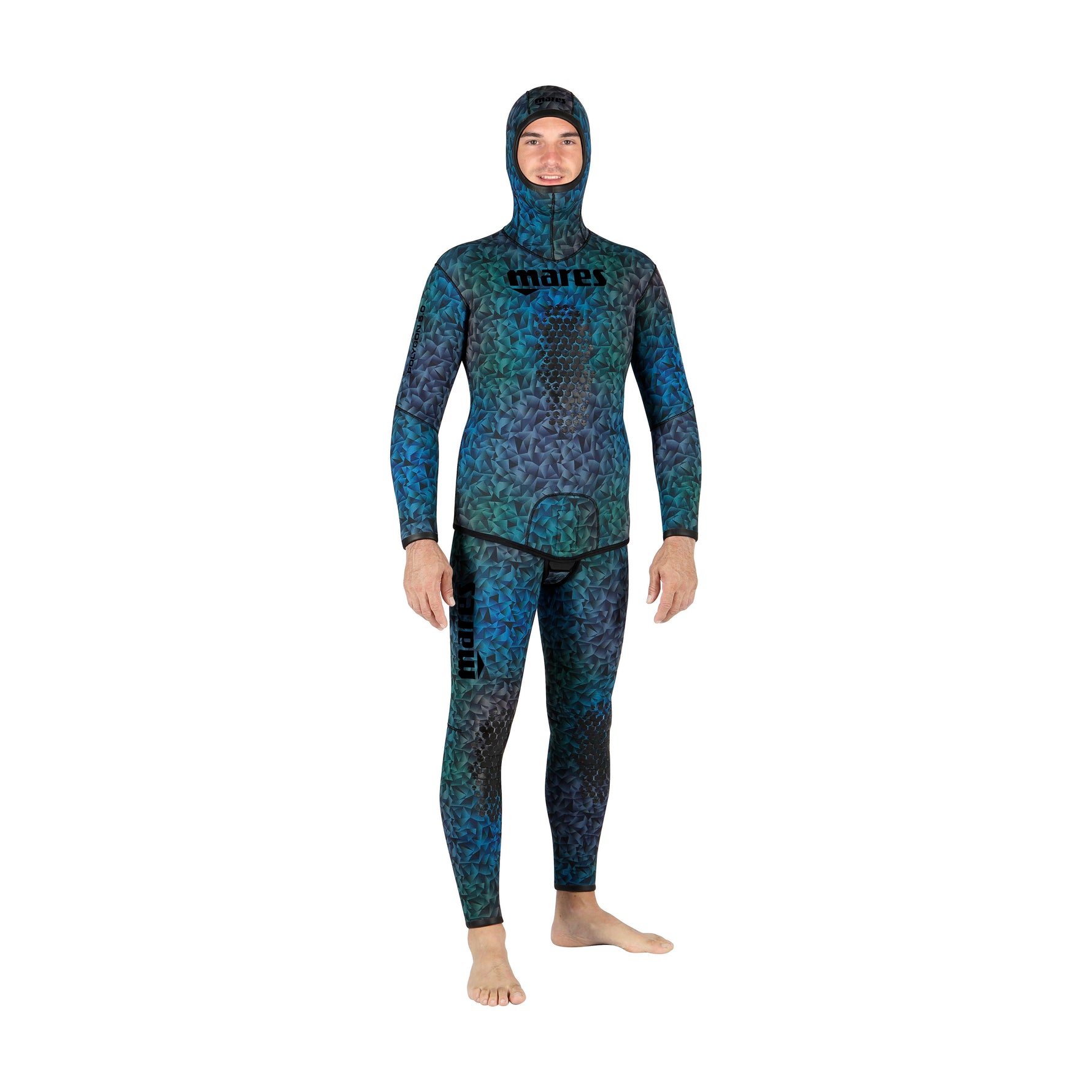 Phantom 3mm Camo Wetsuit
Polygon Open Cell Camo Wetsuit
The Mares Polygon 3mm wetsuit is a two piece, open cell (unlined) wetsuit, designed specifically  for spearfishing.

The Polygon Steamer is not only innovative in its appearance but also in its fit. A pre-shaped cut ensures comfort and excellent fit with sturdy knee pads and a non-slip chest pad with an internal neoprene "shock absorber".

The suits' cross section ensures exceptional comfort and softness, offering superb thermal insulation with neoprene cells tightly adhering to the skin, preventing water infiltration.

Indigo serves as the base colour for the new polygonal pattern, making this suit design, ideal for spearfishing as it absorbs Ultra Violet rays and minimises reflection.

Featuring a unique indigo, polygon-based camouflage pattern. This design is perfect to break up your outline for stealth whilst hunting and lets you blend seamlessly into your environment, in any condition.

The wetsuit features a pre-shaped pad for anti-slip sternum reinforcement with internal neoprene shock absorber and an adjustable VELCRO beaver tail closure for a perfect fit.

The Polygon 3mm two piece design is manufactured from compression-resistant open cell material, enhancing breathing capacity, making spearfishing easier, safer and more enjoyable.




Awesome Service
Our professional staff are ready to assist with your enquiries
No Hassle Returns
Return your item within seven days for a full refund
Secure Checkout
Guaranteed safe checkout for your purchases